Founded in 1979 by Mark Pace, we serve enthusiasts from all over the greater Kansas City area, the US, and the world.
At our present location in Independence, Missouri since 1989, one block west of the historic train station now used by Amtrak on their KC-St.Louis "River Runner" route. Housed in a former Fire Station–said to be the oldest still standing west of the Mississippi: built in 1908, originally for horse-drawn fire wagons, remodeled and enlarged in 1928 to include the city's newly purchased, gas-engined "LaFrance" pumper & ladder truck.
We are open primarily by appointment: phone 816-461-7433 or email at pacebicycle@sbcglobal.net .
We sell and service 'conventional' bicycles of all types, for all purposes– and, also tandems, triplets. tricycles, and recumbents–including tadpole recumbent trikes.
Our custom 'one-of' bikes are usually made with new, currently-produced, sometimes 'state-of-the-art' frames; but sometimes, old, classic, even 'antique' frames and/or components. Presently we have an unusual and varied inventory of vintage road, track, ATB, and touring bikes (1960-1970′s Schwinn Paramount, Raleigh Professional, etc) frames, wheels, and also parts, including some NOS (new old stock) parts by Campagnolo, Simplex, T.A., and many others. Of course we cater to our customers' wants and needs, but generally favor whatever works best: what provides the most reliability, performance, and comfort — which often is neither "the latest" nor "period correct".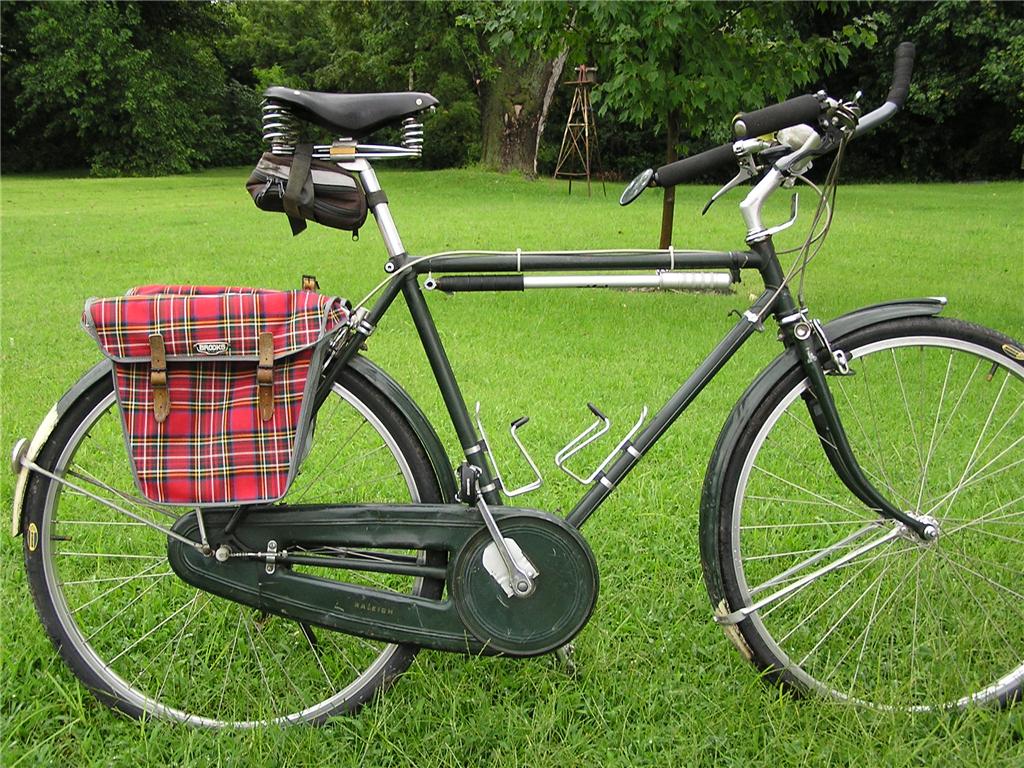 My trusty 1949 Raleigh hot-rod, advertising some Brooks plaid panniers.